Scan and Pay
Handy and Safe Payment Collecting Tool
WiseCashier Cashing App is an essential software developed by WiseCashier to provide store merchants with functions like payment collecting, transactions history reviewing and bill cheking, etc. tightly connecting merchants with their customers.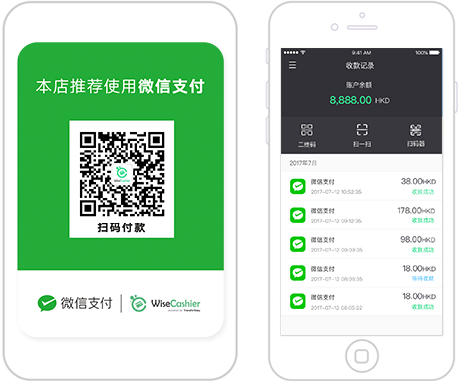 Quick Access to Wechat Pay
Fast, Convenient and Professional Service
One stop service enables you the quick integration to Wechat Pay. On spot service; Ready to use in seconds; Tt is as easy as that!
T+1 Settlement
Fast, Convenient and Professional Service
With professional technology and service teams, we assure you a smooth fund flow with T+1 settlement period.
Fast and Safe
Fast and secured money receiving and paying experience
Say goodbye to counterfeit money with Scan and Pay. Payment has never been so easy.
WiseCashier Cashing App

Satisfy All Your Needs.

iOS Mobile

Android Mobile
Scan to download